Day in Huatulco, Mexico
April 6, 2023 our second port in Huatulco (h is silent – wa tul co).  This is a new port for us.  Huatulco is south of Acapulco.  Very nice port and people.  We stayed close to the port this time.  Toured the immediate area and enjoyed an amazing lunch.  Pictures below of the port area and lunch.  We will take a tour of the island on our return trip.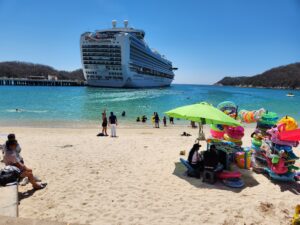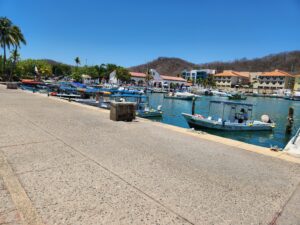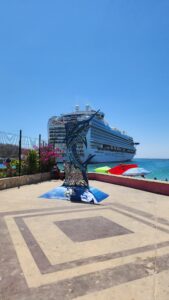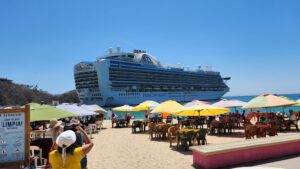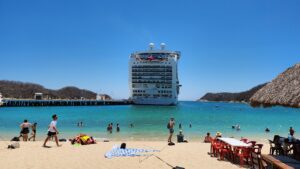 Amazing lunch on the patio adjacent to the beach.  We had an appetizer of whole corn tortillas with salsa.  Then 4 shrimp tacos.  Michael ordered nachos con pollo which was black beans topped with chicken.  No toppings i.e. guacamole, sour cream, greens, etc.  Semi HOT salsa and yummy.  Stu ordered coconut shrimp with mango salsa.  Six HUGE  butterflied coconut shrimp severed on skewers speared into a coconut with mango salsa in the scooped out center.  See pictures below.  Stu ate 2, I ate 1 1/2, Michael has 1/2.  So much food we couldn't eat the last 2 shrimp.  Too bad we had to leave those behind.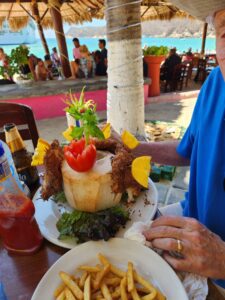 Coconut Shrimp – 1 shrimp with mango salsa on top
The weather quite amazed us.  It was just like Oceanside. Perfect and comfortable in the shade with a cool breeze and HOT in the sun. Minimal humidity.  Lovely day at the beach.
Next port is Puntarenas, Costa Rica on April 9th.